2A Tactical Gear Flag Patch and Sticky Holsters MD-5 fits Revolvers w/ a 2.25" Barrel Bundle
$

26.95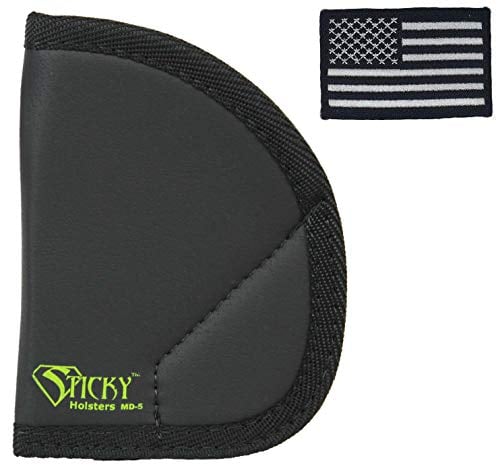 UPC: 601577717782
Brand: 2A Tactical Gear
Manufacturer: 2A Tactical Gear
- Bundle includes: Sticky Holster MD-5 Holster & Hook & Loop Black & White USA Flag Patch
- Fits Ruger LCR, Smith & Wesson J-Frame and similar revolvers w/ a 2.25" Barrel
- Ambidextrous (left or right hand)
- "Sticky" outer material removes the need for belt loops or clips
- BUILT TO LAST: The 2A Tactical Gear patch features 100% heavy stitched embroidery with dense, durable hook & loop. You should expect long years of use in challenging conditions from this patch.
Lightweight at only 3 ounces, this is the perfect holster to easily and quickly access your concealed carry firearm. The "sticky" skin sticks to your clothing or skin so you don't need belts or loops to hold the sticky holster in place. Use in your waistband, or in your pocket. Comes with 2A Tactical Gear USA Hook & Loop Flag Patch. Attaches to your hat or other gear with hook & loop.